Becoming a Cop Starts Here
When you apply to be a Police Officer, you'll go through our Constabulary Recruitment Process. If you're successful in completing the process, you'll be selected as a Recruit into Police College.
1. Apply Online
To apply to become a Police Officer, complete the Recruit Application.
8. SCOPE
A realistic job preview by experiencing many different aspects of police work.
12. Selected for Wing
You'll be selected for a Wing in which you will attend the Royal New Zealand Police College.
13. Complete 20 weeks training
You'll be at the Royal New Zealand Police College.
14. Graduate
Graduate in front of family, friends and dignitaries - ready to start your career as a new constable.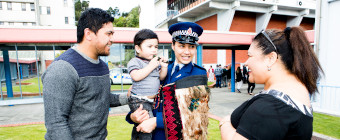 To get in, get ready
Getting into Police takes some effort, but it's definitely worth it. You'll need to be fit to pass the physical tests, and savvy to complete a range of psychometric tests and assessments. You'll also need to show that you have the right attitude and personal qualities. Are you up for it?
The earlier you start your recruitment journey, the sooner you'll be ready to start your Police training. The best time to start is right now, whether you're just thinking about what to do for a career or you're ready to change careers.
Please note that applying to be a Police Recruit does not guarantee that your application will be successful. We have a rigorous recruitment process that allows us to select the very best applicants for a future place on a Wing at the Royal New Zealand Police College. Please discuss this with our recruitment staff if you have any questions.
At the start, the selection process can fit around your other commitments so you don't need to wait until you've finished school or left your job to apply. The recruitment team will work through options with you to give you the best opportunity to fulfil the requirements of your application. However, some steps in the process will need to be completed within a set timeframe that may require you to make yourself available.
If you're applying after a lengthy employment gap, you'll need to tell us why you've had a break.

We are PRIMED, are you?
The ideals we aspire to are Professionalism, Respect, Integrity, Commitment to Māori and the Treaty, Empathy and Valuing Diversity. You can expect our team to be professional and we expect the same from you. This is a good time to check out our candidate charter. If you have any questions, be sure to check our FAQ page, which has heaps of useful info to help you on your way.